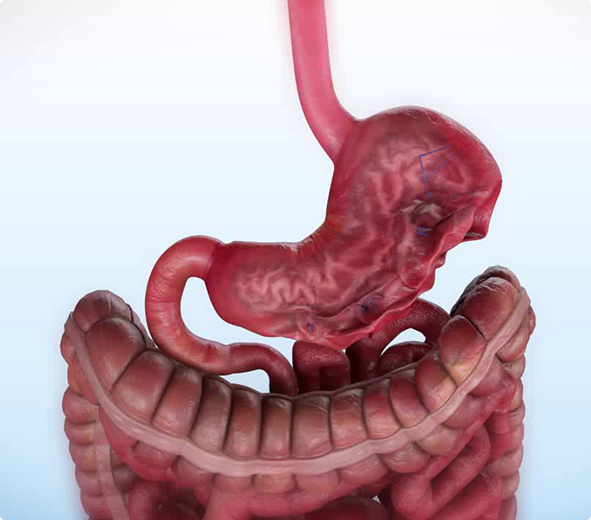 What is the ESG Weight Loss Procedure
Endoscopic Sleeve Gastroplasty is the term given to a new weight loss procedure pioneered in 2012. It is currently being performed in a number of clinics around the world and is now available in New Zealand.
The average weight loss at 18 months to 2 years after the procedure is approximately 20% of starting body weight (eg: a 100kg patient will lose approximately 20kgs in weight on average). Most of the weight loss will occur in the first 6 months post procedure. ​
This procedure is performed as a daystay, so you go home the same day.
ESG is a procedure that uses an endoscope which can suture the stomach without having to cut into any exterior skin tissue. Everything is done via an endoscope. The stomach volume is reduced by 50-70%. This is accomplished by a series of endoscopically placed sutures extending from the bottom 1/3 of the stomach to the upper stomach creating a "sleeve".
If you want to see if you're right for this procedure then click here to take the online assessment.
Your initial appointment will be with a Gastroenterologist. At this initial consultation you will be assessed as to whether endoscopic sleeve gastroplasty (ESG) is a procedure that is appropriate for you. The procedure will be discussed in more detail and you will be able to ask questions. Other family members or support people are welcome to attend this appointment.
ESG is undertaken using the OverstitchTM; Apollo Endo-surgery device which attaches to the endoscope and is performed under general anesthesic. The procedure and changes made to the stomach are considered permanent. Although there is the possibility of reversing the changes, this is very rarely undertaken.
This procedure does not involve removal of any of the stomach itself; as opposed to that which occurs with surgical laparoscopic sleeve gastrectomys (Gastric Sleeve) and bypass procedures undertaken for weight loss. As a result, the ESG procedure is significantly safer with a faster recovery time. ​
To achieve the best results, a multi-disciplinary approach is used. The program that has been developed incorporates regular clinical reviews with the gastroenterologist, specialist ESG nursing staff, dietitian and psychologist, to help you achieve the best possible outcome.